Start of main content
Highlands Flea Market
Please note that as a result of the COVID-19 outbreak, we had cancelled all programs and events. We are cautiously re-opening but with strict guidelines and safety protocols in place. Please view the Highlights for updates.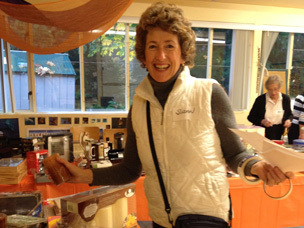 Yes, it's the largest fundraiser that Highlands holds. But much more than that, the annual Flea Market serves as a recycling and reusing centre for all the North Shore. And provides low-cost household items and clothing for the entire community.
Originally started in 1976, the Highlands Flea Market has grown into a traditional "rummage sale" of giant proportions—the entire lower floor of the church, the courtyard, the foyer and the Welcoming Space are transformed into a bargain centre extraordinaire. Last year's sale was a success – thank you to everyone who helped and shopped! Due to Covid-19 restrictions, it is undetermined if the sale will be held this year in October 2020. Please watch the Highlights for updates.
As items are donated throughout the year (except November, December and August), we often respond to the needs of other organizations for specific items:
Men's clothing and blankets to First United Church
Baby equipment to North Shore Neighbourhood House
Medical health equipment to the Red Cross Loan Cupboard
Household items to Home Start and Shelter to Home Project
Good summer clothing to Lions Gate Thrift Shop
Formal dresses to the Cinderella Project
After Flea Market day, everything that hasn't sold is given to organizations such as, the Community Living Society, First United Church, or Covenant House. Many members of the Highlands congregation work throughout the year to ensure that the Flea Market is a great success, and the community is well served through donations to other organizations.
We'd love it if you would join the 25-30 people who work Tuesday mornings most of the year to sort and organize all the donations—and have a coffee break, with lots of noisy chatter, in the Fireside Room. Contact Chris Robertson or Jonathan Maillie through the church office. (Our sorting crew takes a break during November-December and during the month of July)
If you're interested in donating items, just call the church office (604) 980-6071. Items are accepted throughout the year.