Start of main content
Highlands cooks!
If you enjoy time in the kitchen in the company of others, this is the opportunity for you. At Highlands, working and eating together is frequently on the menu! Support is provided in learning to plan and cook for groups, if needed.
Saturday Lunch
At 1 pm every Saturday, the Saturday Lunch program provides a nourishing meal to people who are living on limited incomes or may be homeless. Volunteers from both Highlands United and the community prepare and serve the meals at North Shore Neighbourhood House (NSNH), at 2nd Avenue and St. Georges Street, in North Vancouver.
Until we're able to gather inside safely, bagged lunches are served from the lane behind Neighbourhood House.
Each week we prepare and distribute 90 lunches. You can help by:
being one of three sandwich makers in the big kitchen at Highlands United (10:30 am to 12:30pm)
transporting bins/boxes with bagged lunches from the church to NSNH in Lower Lonsdale (12:15 to 1 pm)
being one of the four server/greeters (12:40 to 2:10 pm)
baking cookies to go into the lunches — label them 'Saturday Lunch' and leave them in the freezer in the small kitchen at Highlands
Most people volunteer about once a month, here is a link to the schedule so you can see when help is needed. We're excited to welcome new volunteers to this most rewarding program.
Highlands works in partnership with the NSNH House and other organizations. The program is supported by donations from local community organizations, businesses, and individuals, as well as grants from the City and District of North Vancouver. To find out how you can help, please contact Kumu Navaratnam.
For other places to find Food Support on the North Shore click HERE.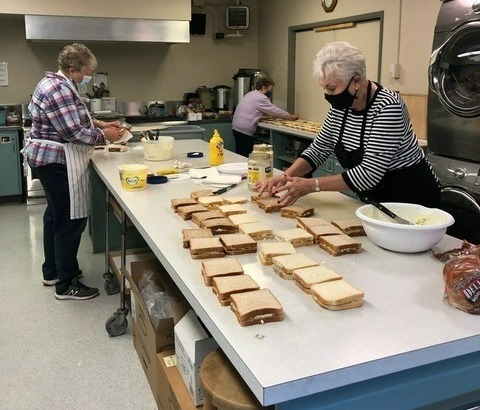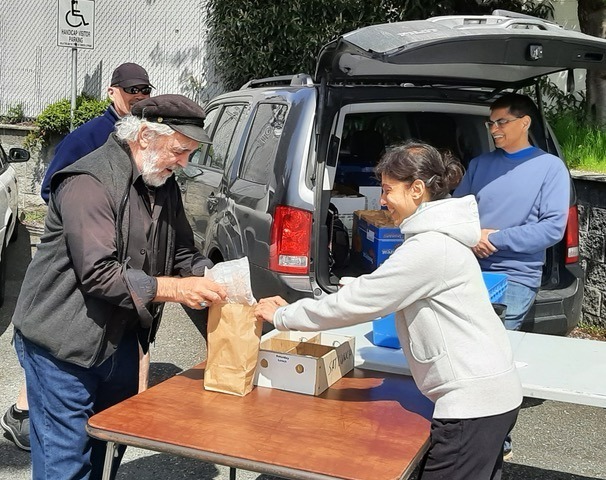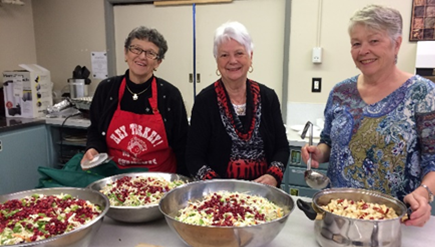 Highlands cooks year-round
Highlands in the Kitchen is also busy throughout the year with occasional Sunday lunches, the annual Upside Down lunch when dessert comes first, the Christmas Café at the Advent Festival, monthly birthday celebrations, serving at memorial services, making pancakes, flipping burgers at church barbeques, preparing coffee on Sunday mornings, and more. Watch the Weekly Highlights for chances to get quality time in the Highlands kitchen!